Beautiful Bordeaux with Iberian Splendours
on Scenic Diamond
From the dramatic to the breathtaking
The landscapes of Spain, Portugal and France are as beautiful as they are diverse.
From the white washed villages of Spain surrounded by trees covered in plump juicy olives, to the stunning châteaux of Bordeaux, flanked by luscious green vineyards with grapes glistening like jewels in the sunlight – it will be hard to choose a highlight on this incredible tour.
At Scenic Luxury Cruises & Tours, our truly all-inclusive luxury cruises honor the beauty of time. We're not here to rush you from one attraction to the next. We want you to take the route less-traveled. We want you to take the Scenic route.
From tracing the intricate waterways of Bordeaux, to a once-in-a-lifetime journey through Southeast Asia, each Scenic experience is a handcrafted, personalized cruising adventure. This is more than just a river cruise; it's a journey you'll never
...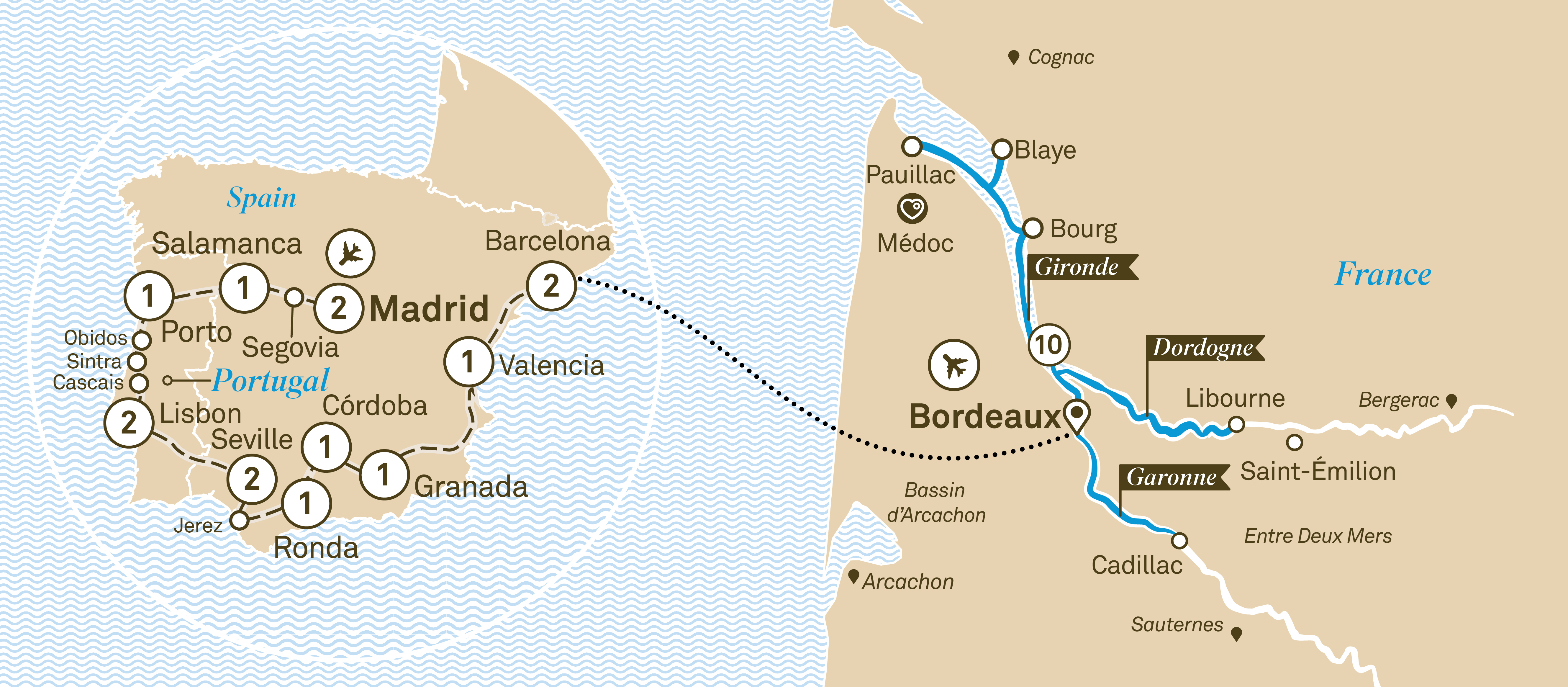 Day
Destination
1
Madrid
2
Madrid
3
Madrid > Salamanca
4
Salamanca > Porto
5
Porto > Lisbon
6
Lisbon
7
Lisbon > Seville
8
Seville
9
Seville > Ronda
10
Ronda > Córdoba
11
Córdoba > Granada
12
Granada > Valencia
13
Valencia > Barcelona
14
Barcelona
15
Barcelona > Bordeaux
16
Bordeaux > Saint-Émilion
17
Libourne > Pauillac
18
Médoc
19
Pauillac > Cadillac
20
Cadillac
21
Bordeaux
22
Arcachon > Bourg
23
Cognac
24
Blaye > Bordeaux
25
Bordeaux